Achieving success in business hinges on implementing effective marketing strategies. However, navigating the complexities of marketing funnels, e-commerce, and automation can be overwhelming, especially for those without a marketing background. But fear not, as InfluencerSoft comes to the rescue – a game-changing marketing and sales funnel software designed to transform the way you do business. In this article, we'll delve into the numerous advantages of adopting InfluencerSoft and discover how it can unlock your business's true potential.
Streamlined Funnel Creation for Optimal Conversions
Building marketing funnels that convert leads into customers is an art, and InfluencerSoft simplifies this process like never before. With its user-friendly drag-and-drop funnel builder, you can design and launch captivating funnels in a matter of minutes. Choose from a vast array of conversion-proven templates, including promotional funnels, follow-up sequences, and email nurture campaigns, tailored to your unique marketing needs. By eliminating the frustration and guesswork from funnel creation, InfluencerSoft empowers you to focus on what truly matters – driving results and growing your business.

Empowering E-commerce Solutions to Boost Sales
For entrepreneurs seeking to sell their products and services online, InfluencerSoft offers a powerful e-commerce platform with a wealth of features. Whether it's single price points, payment plans, or referral programs, InfluencerSoft's e-commerce capabilities cater to your every requirement. Seamlessly manage your online store and track your sales performance, all within the same platform. With InfluencerSoft, your e-commerce endeavors become a breeze, freeing up your time to concentrate on nurturing your customer relationships and expanding your business.
Tailored to Consultants, Course Creators, and Online Coaches
InfluencerSoft understands that different businesses have distinct marketing needs. Whether you're a consultant, a course creator, or an online coach, InfluencerSoft's comprehensive features are perfectly aligned to serve your industry. Its versatility and adaptability make it an ideal alternative to other popular marketing tools like ActiveCampaign, ClickFunnels, and WordPress. By catering to your specific niche, InfluencerSoft becomes a valuable asset in amplifying your reach and maximizing your impact on your target audience.
Seamless Integration with Your Favorite Tools
In a world of interconnected technology, smooth integrations are crucial for seamless business operations. InfluencerSoft recognizes this, and that's why it offers easy integration with various tools and platforms through APIs, Pabbly Connect, Zapier, and Zoom. Streamline your workflow, synchronize your data, and optimize your marketing efforts by connecting InfluencerSoft with the tools you already love and use. Say goodbye to manual data transfers and embrace the efficiency of an integrated marketing system.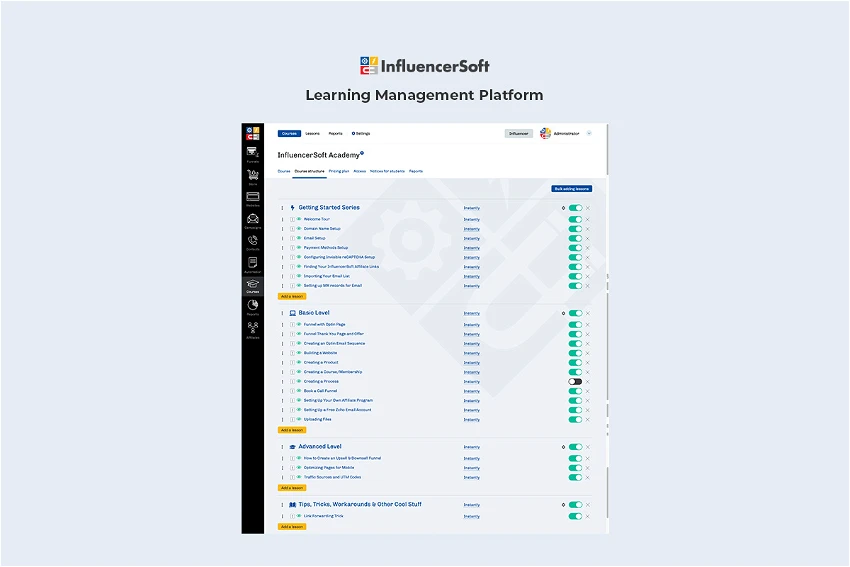 Learning Management System (LMS) for Enhanced Education
In addition to its marketing prowess, InfluencerSoft takes education to the next level with its Learning Management System (LMS). Create courses with your branding and design, and offer free or paid online training with ease. Deliver sequential content to your learners, enhancing their educational experience and maximizing their knowledge retention. With InfluencerSoft's LMS, you can become a true authority in your industry, solidifying your position as a thought leader and expert.
Unleashing the Power of Automation
Automation is the backbone of efficient marketing, and InfluencerSoft empowers you to harness its potential. Its process mapping tool allows you to automate your marketing funnel's sequence of actions effortlessly. Set up nurture touch points and trigger email sequences to keep your marketing efforts running smoothly, even when you're not actively managing them. By embracing automation, you'll experience enhanced productivity, improved customer engagement, and greater ROI.
Grow Your Affiliate Network with Ease
Affiliate marketing is a powerful strategy for expanding your business, and InfluencerSoft simplifies affiliate management with its intuitive dashboard. Effortlessly onboard new affiliates and provide them with promotional tools like swipe copy and graphics. Customize your affiliate program settings, track affiliate clicks, referrals, sales, commissions, and more – all from one convenient dashboard. With InfluencerSoft, nurturing a thriving affiliate network becomes a breeze.
In conclusion, InfluencerSoft is a true game-changer in the marketing and sales funnel software realm. Its streamlined funnel creation, e-commerce capabilities, tailored industry focus, seamless integrations, and learning management system make it a comprehensive solution for marketers, entrepreneurs, and educators. Embrace the power of automation and effortlessly grow your affiliate network. By choosing InfluencerSoft, you're investing in a versatile and powerful tool that will revolutionize your marketing game, taking your business to new heights of success and growth. Click here and don't miss the opportunity to unleash the full potential of your business with InfluencerSoft!